Doomdogs Sporting New Singer !!


(By Lara Noel - Doomed & Stoned -
JUL. 4 - 2016)

DOOMDOGS may not need an official introduction to this crowd, although if you're unfamiliar with the Swedish doom metal/stoner band, Doomdogs, that have already released two heavy hitting albums with stellar reviews, you'll want to dive in full force. The update here is that Doomdogs has a new vocalist: The Dutchman, Paul Nannen.
Just a few months after leaving Holland for Sweden, Paul joined forces with Doomdogs in early April 2016. Paul spent many years on other projects: vocalist (and also played guitar) in the Dutch Stoner/Grunge/Alternative-metal bands AliennatioN and Collect The Guns. The band is now writing new material with Paul for an upcoming third full-length album.

In recent conversation I had with guitarist, songwriter, and founder of Doomdogs, Christer Cuñat Candela, he had this to say about the addition of Paul on vocals:


Paul is such a great vocalist and such a goddamn creative and awesome musician in general, and he's also a really, really nice guy and an overall very cool dude… I so love working with this guy… At the moment, Paul and I are collaborating and working together on vocal melodies and lyrics for five new songs for the next Doomdogs full-length album… This time around the emphasis is kind of more or less all on heavy-as-hell "melodic" doom-metal with a '70s vibe and not so much "stoner" as some songs on the two previous albums. The latest new song "Those Bloody Voices" did kind of somewhat set the standard for the rest of the upcoming new material, so stay tuned all you doomsters…!



Although a slight departure from previous work, there is an undeniable progression of artistry here. Doomdogs recently released a track titled, "Those Bloody Voices" with Paul Nannen, who added his vocals to music from the original demo recording, before it was mixed and mastered.

This is like taking a step back in time and well into the future all at once; a vortex of everything you'd want in the doom you crave combined with the undeniable spirit of heavy 70's rock.

Welcome to the future of Doomdogs !(link to this  news-article at the Doomed & Stoned - click

here

)


Interview with Doomdogs guitarist and founder Christer Cuñat Candela on the "B Side Mikey Show - FCC FREE Radio" (San Francisco)
... taken from the "2 hour Doomdogs special" (Sept. 19, 2015) !!! 
(the interview - 04:25-30:12)
THE DOOM CELLAR's DJ DOZER doing an on-air phone interview with Doomdogs guitarist and founder Christer Cuñat Candela !!Click on the pic below to listen !!
...first there are two Doomdogs songs played 16:45 - 29:40 into the show, and then the actual interview is from 35:35 - 1:05:30 into the show !!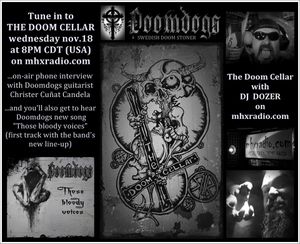 Ed Barnard/DOOMMANTIA interviewing Christer Cuñat (Doomdogs)
(Dec 11, 2011)
INTERVIEW :
"The Dogs of Doom Are Howling"
Here is the long-awaited interview I did with Doomdogs guitarist and composer Christer "Chris The Riff" Cuñat. Make sure you check out the 'Unleash The Truth' album, you won't regret it...........
First of all I must say congrats on the new album, "Unleash The Truth." you must be very proud of it and happy with the positive reviews it has been getting ?
Thanks Ed....and yeah..we're pretty good damn proud of "Unleash The Truth" and to get so many positive reviews of course feels just awesome...and to have the new Doomdogs album released not only on CD but also on double Vinyl LP is really a dream come true...so a big "thank you" to Lukas at Doomentia Records...a great guy and a great label !
"Unleash The Truth" sounds a little different from the début, dare I say a little bit less modern with more of a 70's classic hard rock/metal vibe. Was this something you had planned or did the album just turn out this way naturally ?
Well, I wouldn't exactly say that "Unleash The Truth" was planned to turn out with more of a 70's classic hard rock/metal vibe than our debut album...I guess that just came kinda naturally to us during the writing process...more of the band members different musical influences shining through on the new album...and with our new drummer, Emil Rolof, who's also a guitarist and composer with a love for "progressive stoner rock" (Emil wrote the song "Slight Case Of Madness" on the new album)..well, he sure influenced me to bring out some more of my "stoner/doom-soul" in the writing process for "Unleash The Truth"...like on the songs "The Annie-Christ" and "Eye For An Eye"...
The new album is also a bit more musically diverse, with songs like Patrik's "Magic Of The Black Circle" and "Questions To My Answers", than the début album. We also went for more of an early Black Sabbath retro sound both in the musical structure of the songs and in the sound in general....the guitars are not quite so distorted on the new album as on our debut and the drums are a bit more retro-sounding...and this, as I said, just came kinda naturally to us...guess we now found the "Doomdogs sound" that we all feel is the right sound for Doomdogs...early 70's hard rock/metal retro but with a modern heavy-as-hell touch to it and with GG's deep aggressive powerful voice as the icing on the cake - "MOTORDOOM WITH THE STONER ENGINE ON OVERDRIVE"...oh yeah...ha ha ha...But don't get me wrong...´cause we also luuuv the a bit more "heavy" sound on our début album...
The album also has more of a slight prog-rock feel about it. Is this a genre you all listen to a lot, especially late 60's bands like Atomic Rooster for example ?
Yepp...and bands like Jethro Tull, Gentle Giant, Captain Beyond, King Crimson, Cream, early Genesis, Rush, Pink Floyd, Beatles and then of course early Black Sabbath, Black Sabbath and Black Sabbath...hmmm...did I mention Black Sabbath ?...ha ha...
As I already mentioned, the reviews have been overwhelmingly positive but have you noticed any difference between US reviews and the European ones ? Do you think the different countries have a different outlook towards heavy music ?
Well, not so much any difference between U.S. reviews and the European ones...but kind of a big difference between Swedish reviews and reviews from the rest of the world.
The Swedish reviews has not been that great in general but the reviews from the rest of Europe and the U.S. has, as you mentioned, in general been pretty awesome.
We've given this some serious thought and we believe the answer may lie in the fact that Swedish reviewers often have this idea that you should be able to easily put a certain "label" on all kinds of music, and as we bring in influences and ideas from different genres we guess Doomdogs music is not sufficiently progressive to be included among the prog-rock bands and not oldschool-doom enough to be included under the doom-flag...so maybe the Swedish reviewers get a bit "dazed and confused" by this fact about Doomdogs music...ha ha...
"Unleash The Truth" is a fairly long album. Was this all the songs you had prepared for the album or did you have extra tunes to pick and choose from ?
Nope, no extra tunes to pick and choose from. When we start to rehearse new material we very quickly "feel" if a new song is gonna be up to "Doomdogs standard" and we don't waste any time on songs that we feel is maybe not gonna be quite "up there".
With this new album, great songs (at least in our opinion..ha ha) fairly quickly just started to emerge one after another, so we actualy had to stop writing new songs after we finished writing the 12 songs that are on the album, or else we might have ended up with a triple or quadruple album..ha ha ha...
Do you have any personal favorite tracks from the album ?
No, not really...but I guess that differs from day-to-day and between the different bandmembers...we all really like all the tracks or else they of course wouldn't be on the album. We always make all important decisions together as a band, both when it comes to which songs should be on a Doomdogs album and all other important decisions concerning Doomdogs.
What was the writing process for this album like ? It has been a while since the début so have you been working on these songs ever since the début's release ?
Well, I'm always noodling around on the guitar at home-coming up with new songs, and then I present the songs to the rest of the band at rehearsals...and if my band mates like the new songs we then all together start to arrange them to the better until everyone is satisfied with the result...and it was the same working procedure with the songs that the other guys in the band wrote for "Unleash The Truth".
Most of the songs on the new album was "born" the last 3 - 4 month before we started the recordings and some of the final song arrangements were actually done in the studio..
One of the talking points of the album is your cover of the Black Sabbath gem, "A National Acrobat." This is possibly my personal favorite Sabbath track of all time but choosing a Sabbath cover is never easy seeing as they have so many classic tracks. How did you all come to agree on covering this one ?
We all agreed on that we didn't want to cover one of the more "obvious" Sabbath songs...so I came up with the idea to cover "A National Acrobat" and the other guys all love that song and we also knew that this was a song well suited for the Doomdogs sound and style...and when Victor Griffin (Pentagram/Place Of Skulls) agreed to do the solo...well, not much more to add on that subject...right ?...ha ha..
And just as for you Ed, "A National Acrobat" has always been one of my personal favorite Sabbath tracks of all time ever since I heard it for the first time as a teenager...and I still bloody well can't figure out why It never became one of the more famous Black Sabbath songs...´cause it's such a great great song.
How did you manage to get Victor Griffin to play on the Sabbath track. I know he loves Black Sabbath but how did all that come together and what was it like to work with him ?
There's this guy "Shan BigMan" (Shannon Arnette) whose personal friends with many of the "big names" in the doom/stoner-mafia in the U.S...Shan (totally awesome guy by the way) has been a big Doomdogs-fan ever since he heard the first Doomdogs demo tracks at Myspace some years ago.
Then one day when Shan-BigMan was visiting Victor Griffin in the studio, he had brought Doomdogs debut album with him and Victor listened to it and really liked what he heard.
Well, one thing led to another and when we decided to do "A National Acrobat" I asked Victor if he would do the solo...and to our great delight he replied - "oh yeah, sure, no problem"...
So now that we knew that Victor Griffin would do the solo we extended the solo to twice the length of the original solo and I asked Victor if he could do the first part of the solo "Iommi-style" and the second part of the solo "Iommi/Griffin-style"...AND HE SURE DID !!!...we were totally blown away when we heard the final result...like WOOOOW !!!
Victor is such a great guitarist and musician and also such a great humble awesome guy and it was a total pleasure and honor to work with him. We of course feel so so honored and proud to have Victor Griffin playing on "Unleash The Truth" !...so a big THANKS MAN to you Victor !
As reported on Doommantia, Doomdogs are also taking part in a Ozzy tribute album. How did this come about ?
We got an invitation from Versailles Records (U.S.) asking us if we wanted to participate with a track on their "No More Tears - A millennium tribute to Ozzy Osbourne" album...just as simple as that...ha ha...We gonna participate with a heavy-as-hell Doomdogs-version of the classic Black Sabbath song N.I.B...(the album is due for release spring 2012)...
I know the band got an interview for the Rock Hard magazine which is a fairly high profile mag. Have you had any other big interviews recently ?
Well, we're doing an interview for DOOMMANTIA...and that sure feels pretty awesome !
How are you and the label going about promoting "Unleash The Truth" ? Are you satisfied with the way the album is being promoted at this moment in time ?
Doomentia Records are using the German promotion agency "Sure Shot Worx" for promotion of "Unleash The Truth" and both Doomentia and Sure Shot Worx are doing a great job.
Unfortunately Doomentia and Sure Shot Worx only do promotion in Europe, so if there are any promoters and booking agencys in the U.S. reading this, then you sure are more then welcome to contact Doomdogs for promotion and booking in the U.S.
What is in the future for live performances ? Is there any big tours planned and what about a US tour ?
We just recently played as the support act for the mighty PENTAGRAM on their Scandinavian tour... and that was just so so totally awesome, I tell you man !..The guys in PENTAGRAM are really such nice, fun and humble people and we sure had a blast...(also sending a special "G'day Mate" to Victor Griffin's australian guitar tech Tom...totally awesome guy)...
We would of course luuuv to cross the pond to do a tour in the U.S....would really be a big dream come true... DOOMDOGS so wanna come and play for all our awesome fans in the U.S...Hell Yeah !!!
Thanks again for the interview, any last words for the readers ?
Well, thank YOU Ed...and to all the readers - "keep it heavy and keep supporting all great doom/stoner bands...and spread the word about DOOMDOGS..."MOTORDOOM WITH THE STONER ENGINE ON OVERDRIVE"...
Interview by Ed Barnard
METALFREAK's Alex Chaves interviewing Patrik Andersson Winberg (Doomdogs)
(Nov 20, 2011)
INTERVIEW :
Well, Doomdogs is relatively new band and there´s not really so much information about all of you... Doomstoner from Gothenburg, (Sweden) thats cool, the truth is that theres coming out some bands from over there of this style totally awesome and others in the old vein like Ghost. Tell us a little about Doomdogs band history... why did you choose the name Doomdogs, do you consider yourself as the new Doomstoner dogs he he
Chris started the band in 2006/2007. with a drummer named Thomas, bassplayer Victoria Larsson (former Ice Age) and Vocalist Tomas 'GG' Eriksson (original drummer with Grotesque) They joined forces and Chris wrote the two first Doomdogs songs 'I'm Sure' and 'Calling' !
Back then they called the band 'Dogs Of Doom' (from the lyrics in the Led Zeppelin song 'No Quarter', and Zeppelin sure borrowed it from Tolkien).
After about six months Vicky left the band and I took her place as the band's bassist. One of the first things we agreed on was to change the band's name to Doomdogs.
Well, Doomdogs had its share of ups and downs, and after about a year the drummer,Thomas, left the band, so we put in an ad, and then we tested a bunch of drummers and finally decided on Anders "Nanne" as DOOMDOGS new drummer, that was in September 2008, and we played our first show with that line-up in February 2009 at Sticky Fingers here in Gothenburg...immediate success,haha, and after that things just started to 'happen'.
We recorded our debut album in April/May 2009 and in late autumn 2009 we signed with High Roller Records (for the Vinyl), Doomentia Records (CD) and the music publish company Misty Music.
Doomdogs debut album was then released in February 2010 and got a lot of very good reviews.
"Nanne" then left the band in April 2010 (due to personal reasons) and Emil Rolof (also guitarist and composer in the band Lugnoro) joined Doomdogs as our new drummer.
We played our first gig with Emil at the Muskelrock Festival (Sweden) early June 2010 and recorded the second album "Unleash The Truth" early 2011, the album was released September 1 - 2011 on CD, CD-book and double Vinyl LP by Doomentia Records.

We think that our description "MOTOR-DOOM WITH THE STONER-ENGINE ON OVERDRIVE" regarding the style on "Unleash The Truth" pretty much speaks for itself !
We have all played in a lot of different bands before, but it's 'GG' who has the most 'famous history'. He was the original drummer in the Death/Black Metal band Grotesque, a precursor to At The Gates, one of the original creators of the 'Gothenburg sound' ! Grotesque were pretty much one of the inventors of the Death/Black Metal genre ! 'GG' has also played guitar in numerous Thrash/progressive and Doom/Death Metal bands (like Intoxicate and Runemagick). He also played bass in some Thrash/Hardcore bands, and he has been the lead singer in Valedictory (Progressive Rock), Ancient Dreams (Candlemass tribute band) and Kung Diamant (King Diamond tribute band).
One of the things that caught my attention in this new realease, and I think its one of your goals and a very strong point, is the old sound...how did you get it ? Tell us something about the recording process...
We recorded the first and second album at a studio in Gothenburg called Grand Recordings studio. It's recorded on a 24 track, 2 inch tape recorder and all of the drums, bass and almost all of the guitars are recorded live in the studio to capture the great feeling that we have on stage. It's also mixed down to ¼ inch tapes just to keep the old analogue vibe and to get the tape compression you get from recording and mixing on tapes. So no fucking digital recordings on this album...haha...
There are some media zines and others that comparing your sound like a hybrid between King Crimson and Spiritual Beggars but i think I can hear more influences in your music, even some Death Metal voices like in "Welcome to the Future", do you think that these comparisons do justice to your style ?
As we said, GG´s background is from the thrash and death scene in Gothenburg, so there is of course a lot of inspiration from that era in his vocal style. It would have been the easiest thing to use a clean vocal and sound like almost any Black Sabbath inspired band, but we love the way GG is approaching this music with his own style of singing.
The music influences are from different kind of bands but mainly from bands like Motörhead and Black Sabbath, or as a fan of ours described our music "It´s like Black Sabbath and Motörhead having a car wreck !!" On the new record we´ve also have been playing around with some more influences like Jethro Tull, Beatles, Cream and Captain Beyond.
I saw that there are some special editions for this "Unleash The Truth" like the double 12" Vinyl and a CD digibook...thats cool...
Yeah its sooooo cool to have these releases out on the market. Doomentia Records are awesome to work with both on the manufacturing of the albums and how they are working with the promotion. It's always been a childhood dream of ours to be able to release an album on double vinyl...haha..and now we have it in our hands !! Just imagine the feeling when you open the package and feel the lovely smell of vinyl, and it's your own music on the album !!!
What's happening lately with the Stoner music ?...there are some new bands emerging from many countries right now since this style has been buried since the early influences and bands of the 70's like Black Sabbath. Do you think that this style can make it in the current music scene and have a good future, or is it too hard ?
We think that it has always had its fans and they are strong and faithful to the genre. We don't think that doom and stoner will become mega big because it demands the listener to be really focused and listen a lot to the albums, it's not mainstream music. But one thing is for certain, we do believe that it's possible to make a living out of it but that's not the most important thing, it's more important to have fun and to reach out to people and fans.
Maybe Doomdogs can replace Ozzy when he leaves the music scene...haha...
H
aven't we done that already??...ha ha ha ! We think that he would just love to be support act to Doomdogs !?!
Why did you choose the title "Unleash The Truth"...do you think that it can resume all of your lyrics ideas ? I dont think that its a conceptual album...
As you said, It's not a conceptual album but you are spot on when you think that it resumes most of the lyric ideas on the album. It's our way of writing lyrics that makes it what it is.
There are some parts and arrangements on this "Unleash The Truth" that I think are really cool, like the keyboards on "Save Me", the instrumental song "Legacy" and also the intro of "Questions To My Answers"...how did these ideas arise and how do you usually compose the songs ?
A member of the band comes up with song ideas and shows them to the rest of the band when we meet at rehearsals, then we jam away at the tunes and do the arrangement together. Everyone has opinions about what should stay and what should go in the songs and this makes it sound like Doomdogs. Hell yeah !!
The lyrics on this album are written by the song writer and he brings his own ideas and experiences and put them down in words.
We decide together how a song should sound and which instrument-sound that would fit to get the right feeling of the tune.
The violin on the intro of "Question To My Answers" is played by a 16 year old boy who is working in a youth classical orchestra in Gothenburg and the flute is played by an old friend of ours. Otherwise all of the instruments are played by the band members.
I see that most of the responses so far are a very positive, and the promotion by Doomentia Records is really great internationally, I guess that this will open doors and possibilities for you and make tours or festival appearance... Do you have something in mind for 2012 ?
We are aiming for a lot of festival gigs next year and we would also love to do a tour in Europe. We've had a promoter from US that asked us if we would like to do a mini tour in the southern parts of US so hopefully will we meet some sun in Texas later on.
The next thing for us is to record a track for a Ozzy Osbourne tribute album that will be released next spring on a US label in Nashville called Versailles Records. Maybe this will bring some more attention to us in the U.S. ??
I know that you usually go to festivals with a great reserve of beer and booze ha ha (I saw some pics in your reverbnation profile that demonstrates this) If there are any promoter reading this he could provide you with a tank of beer and booze as a contract clause to play at a festival, right ?
Ha ha !!! LOL.. Off course !! We love beer and Whiskey so just bring it on !! But we also need some milk as well, because GG doesn't drink alcohol.
So just contact us and we will play anywhere, anytime !!
Well I see that there is a special guest, Victor Griffin of Pentagram (!!), on the Black Sabbath cover song, why did you choose this song ? is it a song that you had saved from before, or did you do it specially for this collaboration ? Sounds great !
We are extremely proud of having Victor Griffin as a guest on our album, it's a dream come true. We got in contact with him through a fan of ours from Texas, "Shan Bigman", and Victor really loves the first Doomdogs album and when we asked him if he would do a solo on the new album he just said "sure no problem, I'd love to do this with you guys!"
We did decide together that it would be fun to honour our mutual heroes Black Sabbath and the song "A National Acrobat" felt natural for us to do in a Doomdogs kind of style. We love the way it turned out and Victors solo is just amazing !!
Finally I have to ask you one more question... This enthusiasm for the sepia color in all the pics and covers, where did that come from ? do you not have a digital camera ? he, he
Analogue rules !!!!
The truth is that the pictures are taken with a digital camera and then we've had some great help from some friends who knows how Photoshop works.
The sepia colours really captures the analogue 70´s vibe that we love both musically and how the feeling was when we recorded the album.
Here we have to say goodbye....thank you for this good time and congratulations for the new cd that I really recommend....and hope to see you soon in Spain, we also have beer and beautiful girls so you are welcome ha, ha
Chris, the guitar player is ½ Spanish so it would really be an honour for us to play in Spain...haha... so if anyone has ideas about how to make it happen, then just email us at
doomdogs@gmail.com

Cheers from all of the guys in Doomdogs !
Interview by Alex Chaves
Daniel at SPOTIFYLISTAN interviewing Patrik "Slemmy" Andersson Winberg (Doomdogs)
04 november 2011
(interview in Swedish)
Link to the interview
(click here)
INTERVIEW :
Hej Patrik och välkommen som gästrecensent på Spotifylistan.se. Vi får börja med att gratulera till förstaplatsen!
Bockar och bugar!! Så fruktansvärt roligt, känns helt grymt att åka upp på första plats med en gång! Lite oväntat faktiskt? Doom shall rise \m/ \m/
Doomdogs bildades ju 2007 men det var inte förrän tre år senare som ni släppte erat självbetitlade debutalbum. Varför tog det så lång tid?
Innan allt satte sig hade bandet ett antal olika sättningar. Det började med att Christer startade bandet med en trummis vid namn Thomas och en basist som heter Vicky som spelat med gamla Thrash kultbandet Ice Age, Även Tomas GG ex original trummis i Grotesque, kom med som sångare. Christer stämde ner gitarren till H och skrev Calling och I´m sure, bandet hette då Dogs of doom som kommer från en textrad i Led Zeppelin låten No quarter.

Efter 6 månader lämnad Vicky bandet och då kom jag med som basist, det första vi gjorde var att ändra namnet till Doomodogs som kändes lite tyngre och lättare att komma ihåg. Vi repade på och försökte hitta vårt sound, testade bland annat låtarna med ren sång och med en mer aggressiv approach. När Thomas valde att ta sina trummstockar och vandra vidare provade vi ett antal trummisar och när vi hittade Anders "Nanne" föll alla bitar på plats och vi hittade vårt sound, efter det gick det snabbt.

Vi spelade in debutplattan i Grand recordingsstudio helt analogt på en vecka, vi hade då inget skivbolag klart men snart hittade vi High Roller Records (Tyskland) som ville släppa den på vinyl och strax efter detta nappade Domentia records (Tjeckien) och ville ge ut skivan på två olika CD-utgåvor. Skivan fick ett fantastiskt mottagande i världen och sålde riktigt bra med dagens mått mätt.
Vi behövde dock inte vänta lika länge på er andra platta, "Unleash The Truth", som nyss släpptes. Kan du berätta lite om inspelningen av den. Vad var det ni ville uppnå den här gången?
Förra året i maj lämnade Nanne bandet på grund av personliga orsaker och som en skänk från ovan ville Emil Rolof (till vardags gitarrist i Lugnoro) testa trummstolen i Doomdogs och det var som hand i handsken.. Vi har med tiden insett att vi alla gillar olika typer av progressiv musik som Jethro Tull, King Krimson, Pink Floyd och så vidare.. Så det föll sig naturligt att dessa influenser smög sig in mer och mer i vår musik utan att för den skull riskera att vi tappade vårt ursprungssound och tyngd. Vi valde att leka lite mer med instrumentering och arrangemang på denna platta, därav tvärflöjt, fiol mellotron och så vidare som finns med på denna inspelning. Skivan spelades in i samma studio med samma tekniker och utrustning, allt för att vi skulle behålla den analoga feelingen som vi var så nöjda med på debuten och som vi tycker är så viktig för oss. Denna gång unnade vi oss två veckors inspelning . Vi jobbar ganska mycket live i studion så nästan alla trummor, bas och kompgitarrer är satta på en tagning, allt för att behålla den känsla vi förmedlar när vi spelar på en scen.

Nu har vi valt att bara jobba med det Tjeckiska bolaget Doomentia records. Dom är helt fantastiska att jobba med, helt grymma på promotion och att ta fram unika produkter, denna gång släpptes skivan på Dubbelvinyl (en riktig barndomsdröm!!), CD Digibook Ltd edtion och vanlig Jewelcase.
På ett av spåren på nya plattan gästspelar Victor Griffin från Pentagram. Hur kom det sig att ni plockade in honom?
Detta är givetvis en dröm som blev sann!
Det är genom ett av våra fans från USA som kallas Shan Bigman som även myntat uttrycket "Doomdogs are like Motörhead and Black Sabbath having a carwreck". Shan känner Victor och han spelade upp vår debutplatta för honom och han älskade den verkligen så när vi kom på idén att ha med en gästartist på plattan föll det sig naturligt att fråga Victor och hans svar var " Sure, no problems, i´d love to do this with you guys!". Vi kom fram till att det vore kul att göra en cover av våra gemensamma hjältar Black Sabbath. Förslaget av A national Acrobat kom från Christer i bandet och alla bara nickade, "Hell yeah! Den blir grym!" Vi spelade in den i GBG och skickade över filerna till Victor som på två veckor la ett solo och skickade tillbaka. Vi är så supernöjda med resultatet och Victors solo är helt fantastiskt. Det känns verkligen att vi gjorde detta med hjärtat och som en hyllning till Sabbath.
Senaste plattan har fått en del svala omdömen från vissa svenska kritiker samtidigt som den fått en enormt positiv respons från recensenter i övriga världen där de bokstavligt talat har öst superlativ över er. Funkar Doomdogs sound bättre internationellt eller är det bara ovanligt tjuriga recensenter på hemmaplan?
Vi har funderat en del på detta och Emil uttryckte det bra" Vi är inte tillräckligt proggresiva för att räknas till proggbanden och inte tillräckligt oldschool doomiga för att räknas in under doom flaggan". Vi i Sverige vill gärna att all musik går att sätta in i fack och vi ligger lite för mycket vid sidan av för detta på grund av att vi plockar in influenser och idéer från olika genrer.

Visst är det lite tråkigt med att de två sämsta recensionerna kommer från de två största hårdrockstidningarna i Sverige men med tanke på alla dessa fantastiska recensioner vi fått ute i Europa och USA så har du nog en poäng med att vi funkar bättre på bortaplan än på hemmaplan när det gäller recensioner men INTE när det gäller fans och lyssnare för där får vi jättemycket positiv feedback.

Bara de två senaste dagarna fick vi en recension från USA som gav 9 av 10 möjliga och en Holländsk som gav 84 av 100 möjliga. Det roligaste med alla grymma recensioner i EU och USA är att de verkligen har gett skivan tid, lyssnat många gånger och ingående. Denna skiva kräver ganska mycket av lyssnaren så det räcker inte med några få lyssningar för att öppna dörren till den värld som är "Unleash the truth", men om man vågar och vill ge den tid så lovar jag att det är en skiva som håller mycket länge, vi älskar sådana skivor själva som man sedan har med sig hela livet och inte tröttnar på utan upptäcker nya saker och där favoritspår ändrar sig hela tiden.
Vad har Doomdogs på gång för tillfället?
Faktum är att vi precis nu går in i studion igen och än en gång ska spela in en Black Sabbath cover, N.I.B, denna gång till en Ozzy tribute skiva. Vi fick frågan av ett Amerikanskt skivbolag, Versailles records, om vi ville vara med på denna skiva och självklart ville vi det. Vi jagar spelningar runt om i Sverige och EU och så har arbetet med att jaga festivalspelningar startat.
Det ryktas om en "Doomdogs"-öl. Kan du förklara vad det är för någonting?
När vi tittade på bilderna till omslaget som vi tog på Bishops Arms, avenyn i Göteborg insåg vi att bryggeriet vars ölmärke som var på pumparna kanske skulle se detta och bli sura eftersom vi inte frågat om det va OK? Då dök idén upp om att märka om pumparna till Doomdogs Ale och UTT lager (Unleash the truth). Nu har vi insett att det vore helt grymt om något litet bryggeri skulle vilja tillverka en Doomdogs Ale så vi har börjat sondera terrängen runt detta och får se vad som händer.
Vilken är eran mest minnesvärda spelning hittills?
Givetvis så var vår releasespelning helt fantastisk nu i september, grym publik och vi var verkligen i högform. Mest minnesvärda är nog annars en spelning vi gjorde på ett litet ställe i Tranemo i våras då allt bara klickade. Vi kändes som en helt grym stridsvagn som skulle kunna meja ner allt i vår väg och där var folk från 20 upp till 65 års ålder och alla blev tagna av vår energi och spelglädje, vi älskar när folk blir glada av att se oss och vår tunga musik.

En kul anekdot är när vi spelat på Muskelrock förra året så kom "Taz", bassisten i Electric Wizzard fram och sa att vi var det tyngsta och bästa han sett på denna festival. En annan upplevelse var när vi spelade på Styrsö, en bilfri ö och Christers gitarr-förstärkare pajade och två besökare slänger sig iväg på en flakmoppe och hämtar en ny stärkare för att rädda deras och vår kväll.
Vem är världens bästa basist genom tiderna?
Det är väl jag eller???? Ha ha. Nej alvarligt talat så måste jag nog säga Lemmy för att han betytt så mycket för mig både som rockn´roll person och med sin attityd till musiken. Spelmässigt så är givetvis Geezer Buttler en stor inspiration och fantastisk musiker, likaså ser jag upp till en udda figur som heter Stuart Morrow som var originalbassist i postpunk bandet New Model Army, han spelade väldigt avigt, inte alltid det väntade och grymt teknskt.. Men du frågade efter en så rösten faller på Mr LEMMY.
Vilken var den första skiva du någonsin köpte och står du för det köpet i dag?
Jag minns att jag och min bror sparade pengar och gick och köpte Sweet "Strung up" ,1975, på vinyl, dubbelvinyl dessutom. På den tiden var det en grym känsla och komma hem med en skiva som man lyssnade på om och om igen och läste allt som stod på omslaget, texter, producent, studio….. Sweet må vara snäll musik idag men de är en del grymma spår på denna platta, Action, Ballrom blitz, Blockbuster och så vidare. Fantastiska körer och ett grymt ös, så visst står jag för den fortfarande.
Vilken är den bästa konserten du varit på?
Oj,oj va svårt att välja en konsert av alla tusentals. Hmmmmm???? Tool på Roskilde, Neil Young and the Booker T and the MG´s också Roskilde, Black Sabbath på Hultsfred eller kanske Steve Earle akustiskt på Lollipop 97. Hmmm? En sa du? OK då blir det TOOL. Bästa ljudet och bästa visuella upplevelsen någonsin.
Vilket band, förutom Sabbath, är Doomdogs gemensamma favoritband som alla medlemmar gillar?
Det lustiga med detta är att vi inte har ett enda band som gemensamt favoritband, inte ens Black Sabbath, GG gillar DIO-eran bättre och vi andra älskar OZZY mycket mer och så här är det med en massa band, två av fyra eller tre av fyra älskar ett band men inte alla. Detta gör att vi låter som vi gör för vi tar in så många olika influenser och stoppar ner i grytan och kokar ihop och rör om till en stark Doomdogs stuvning.

Vi rör oss i landet runt Sabbath, Motörhead, Testament, Jethro Tull, King Krimson, Pink Floyd, Abramis Brama, Mercyful Fate, Beatles, Cream, Captain Beyond och så vidare….
Utan att avslöja vad du har tänkt att bubbla med för låt på söndag, kan du beskriva den med tre ord?
Tungt, Svängigt och Aktuellt.
Sist men inte minst vill vi att du tipsar om något underskattat band som du tycker förtjänar uppmärksamhet?
Jag uppskattar bandet Griftegård mycket och tycker att de borde få mer medialt utrymme precis som vi borde ha mycket mer plats.
Interview by Daniel
Jan Jaedike (Rock Hard Magazine #278 - 2010) interviewing Tomas GG Eriksson (Doomdogs)
(the interview is in German so feel free to translate with Google)
INTERVIEW :
Wenn schon, denn schon
Das selbstbetitelte Debüt der DOOMDOGS trieft vor Black-Sabbath-Reminiszenzen und tonnenschweren Dicke-Eier-Riffs. Und mit Sänger Tomas "GG" Eriksson, der einst beim At-The-Gates-Vorläufer Grotesque hinter dem Schlagzeug saß, entdeckt ein weiterer Ex-Death-Metal-Musiker seine Vorliebe und sein Talent für deutlich rockigere Klänge.
Tomas, wie verlief deine Karriere seit den Tagen von Grotesque, und wie kommt es, dass du vom Schlagzeug hinter das Mikro gewechselt bist ?
»Zu Zeiten von Grotesque habe ich noch in einer Band namens Intoxicate gespielt. Dort war ich allerdings Gitarrist, was damals auch mein Hauptinstrument war. Danach habe ich einen Mix aus Progressive Rock und Thrash in einer Band namens Sisyphos gemacht, die später Valedictory hieß. Da war ich zunächst Gitarrist, dann Drummer und anschließend Sänger. In all den Jahren habe ich immer wieder verschiedene Anläufe unternommen, um als Gitarrist aktiv zu sein - unter anderem auch bei Runemagick. Dadurch, dass DOOMDOGS sehr gut ankommen und wir viele Interviews geben, habe ich jetzt auch mitbekommen, welchen Kultstatus Grotesque anscheinend haben. Irgendwann hatte ich tierische Schmerzen in den Handgelenken, was sich als Karpaltunnelsyndrom erwies und das Schlagzeugspielen verhinderte, weshalb ich schon fast dazu gezwungen war, zum Gesang zu wechseln. Es sieht aber so aus, als sei das nicht die schlechteste Entscheidung gewesen (lacht).«
Ihr habt das Album komplett analog aufgenommen, was in heutigen Tagen aus Zeit- und Kostengründen nur noch selten vorkommt. Was steckt hinter dieser Idee ?
»Nun, wir haben uns gesagt, wenn wir schon unser eigenes Geld für die Aufnahmen ausgeben, dann soll es verdammt noch mal auch so klingen, wie wir wollen, dass es klingt. Und mit dem Stoner/Doom-Zeug, das wir spielen, und den vielen Siebziger-Jahre-Einflüssen ist ein guter Analog-Sound für den wunderbar warmen, organischen Heavy-Sound einfach unschlagbar. Im November werden wir für unser zweites Album ins selbe Studio ("Grand Recordings" in Göteborg - ah) gehen und alles noch mal genauso machen.«
Euer Drummer Nanne hat euch schon wieder verlassen, und ihr seid auf der Suche nach einem neuen Schlagzeuger, richtig ?
»Wir haben schon einen Nachfolger gefunden. Emil Rolof spielt eigentlich bei Lugnoro Gitarre, und wir kennen ihn, seit wir ein paar Mal mit seiner Band gespielt haben. Weil wir keinen Metal-Drummer, sondern eher einen Stoner/Doom/Sludge-Schlagzeuger haben wollten, war er genau der richtige Mann, weil er langsames und hartes Spiel mit einem gewissen Jazz-Feeling verbinden kann. Er wird auf jeden Fall mit uns beim diesjährigen Muskelrock-Festival spielen, und dann sehen wir weiter. Erstaunlicherweise scheinen wir in Deutschland die meisten Fans zu haben; zumindest kommen von dort die meisten und besten Reaktionen. Wir würden uns sehr freuen, mal bei euch spielen zu können, also kontaktiert uns fleißig über unsere MySpace-Seite!«
Interview by Jan Jaedike
Matthias Mader interviewing Christer Cuñat (Doomdogs)
(feb 2010)
German writer Matthias Mader is a leading expert on all things HEAVY METAL. He is the author of books on Iron Maiden, Motörhead and Judas Priest. He is also the co-owner of the German publishing company Iron Pages.
INTERVIEW :
Well, what's in a name? Doomdogs? Are they a Doom band then? Jesus, yes they are ... you can bet your life on it. They were formed in the lovely city of Gothenburg in Sweden in 2007 by guitarist "Chris the Riff" and have just relased their first vinyl longplayer on High Roller Records. Christer alias "Chris The Riff" fills us in on the band history of Doomdogs:
"I started the band in 2007. Me and this drummer Thomas left the rock cover band we were playing with and then said to ourselves: 'Well, so what are we going to do now?' I said: 'I really like Black Sabbath' and Thomas replied: 'Yeah, me too.' So I dropped my low E-string to D and then downtuned to C# (drop B tuning) and then the Doom/Stoner riffs just started to 'pop out by themselves'. Bassist Victoria Larsson (former Ice Age) and Vocalist Tomas 'GG' Eriksson (original drummer with Grotesque) joined forces, and I then wrote the two first Doomdogs songs 'I'm Sure' and 'Calling'!
Back then we called the band 'Dogs Of Doom' (from the Led Zeppelin song 'No Quarter' ... and Zeppelin sure borrowed it from Tolkien).
After about six months Vicky left the band and Patrik took her place as the band's bassist. One of the first things he made us agree on was to change the band's name to Doomdogs, and he then helped to rearrange our songs to 'the better'...Patrik is a great bassist, but he's also really awesome when it comes to 'hearing' what should 'go or stay' in a song, and he always also comes up with great new ideas and parts in a song to make it more Doomdogs.
Well, Doomdogs had its share of ups and downs, and after about a year the drummer,Thomas, left the band ... so we did put in an ad, and then we tested a bunch of drummers, but it wasn't until Anders 'Nanne' came down to our rehearsal room and sat down behind the drumkit, and started bashing them drums, that we said: 'HELL, YEAH ! THIS IS THE GUY THAT WE HAVE BEEN LOOKING FOR!' That was in September 2008, and we played our first show with the current line-up in February 2009 at Sticky Fingers here in Gothenburg. And after that, things just started to 'happen'. We recorded our debut album in April/May 2009 ... and in late autumn 2009 we signed with High Roller Records (for the Vinyl), Doomentia Records (CD) and the music publisher company Misty Music.....Black Eye Media Doom also help us with promotionin in the US."
As you might have guessed already, the named musicians have been active in other bands before forming Doomdogs:
'Most of us have played in a lot of different bands before, but it's 'GG' who has the most 'famous history'. He was the original drummer in the Death/Black Metal band Grotesque, a precursor to At The Gates, one of the original creators of the 'Gothenburg sound'! Grotesque were pretty much the inventors of the Death/Black Metal genre! 'GG' has also played guitar in numerous Thrash/progressive and Doom/Death Metal bands (like Intoxicate and Runemagick). He also played bass in some Thrash/Hardcore bands, and he has been the lead singer in Valedictory (Progressive Rock), Ancient Dreams (Candlemass tribute band) and Kung Diamant (King Diamond tribute band)."
As in the past, Gothenburg is still a good place for new and upcoming bands:
"The current 'heavy rock' scene in Gothenburg is very much alive n' kickin' and 'vital'. Bands in this town inspire each other, instead of seeing each other as 'competitors'. If someone knows about a good label, studio, places to play gigs etc. ... well, then they share that information with other bands. This creates a fantastic 'settlers' spirit' and helps to create a great musical climate, and also makes the music scene constantly evolve."
That is really good news. So Gothenburg surely is some kind of musician's heaven ! The city was once well-known for its Death Metal scene. What's left of this scene? What has it developed into? I mean bands like Entombed have developed in a certain direction ... Has Gothenburg gone psycho-Stoner/Doom ?
Christer reflects:
"Well, what remains of that scene is mainly the band Dark Tranquility who still kicks ass. What the Gothenburg Death Metal scene has developed into is bands like In Flames and The Haunted, and bands like Evergrey also have thier roots in the Gothenburg Death Metal sound. So: NO ! Gothenburg has not gone psycho-Stoner/Doom ... Gothenburg has just gone 'one of the best Doom/Stoner, Heavy Metal, Hard Rock Progressive and Hardcore Thrash scenes' in the world. HELL, YEAH!"
This clearly sounds like a guy loving his hometown !
With a name like Doomdogs is it safe to assume that our friends are playing old-school Doom Metal? Do they see a big difference between Doom and Stoner ?
Christer reflects:
"We get that question a lot ... guess everyone is quite confused when it comes to the 'difference' between Doom and Stoner, right ?! For me, original Doom Metal are songs like 'Black Sabbath' and 'Electric Funeral' by Black Sabbath, and one of the first 'Stoner songs' (even if that word Stoner Metal/Rock wasn't yet invented back then) as I see it is 'Hole In The Sky', also by Black Sabbath. So in my opinion, 'Stoner' maybe have a bit more of a 'swing/shuffle, and sometimes tripplet, kind of heavy groove' to it, and also uses more effects like phaser, flanger and fuzz (both on the guitar and bass)."
Pretty good definition, methinks! The music of Doomdogs has been described as "Motörhead and Black Sabbath having a car wreck". That sounds nice.
Chris nodds:
"Yeah, that's a quote from Shannon 'Shan The Big Man', a hardcore DoomDogs fan and totally awesome guy from Georgetown in the US. And that must be one of the best comments about our music that we could ever get, as those bands are two of our greatest sources of inspiration ... especially early Motörhead with Fast Eddie plus Philthy, and early Black Sabbath. Our bassist, Patrik, almost started to cry with joy when he heard that quote about DoomDogs' music, as Lemmy and Geezer Butler are his absolutely biggest bass gods."
Matthias Mader